Haze, haze go away!
Haze, haze. Go away.
With many races and the inaugural Standard Chartered KL Marathon 2019 coming up in a little over 2 weeks, many of us are devastated with the haze that has dawned upon us (AGAIN!). Does training still continue during this hazy period? Well, yes and no.
Generally, it is quite safe to run if the Air Pollutant Index (API) value is below 100 if you are not suffering from any respiratory or heart disease. So, training can still resume but it is advisable to limit your outdoor activities. While exercise is good, if the API readings are over 100, it can actually have adverse effects to our health such as eye, nose and throat irritation, as well as lung inflammation and scarring because of the small air particles suspended in the air. Note that during exercise we breathe harder and take in more air which means we are breathing in more pollutants into our lungs. So how do we train?  
Training tips:
Check the API index
Before you head out, check the API of Malaysia (http://apims.doe.gov.my/public_v2/api_table.html). It is updated hourly so you can keep update with the air quality. From what we have been monitoring, the air quality seems slightly better in the mornings in certain regions, so plan your workout earlier if you absolutely need to do an outdoor workout.
Hydrate!
We cannot stress how important water is in our training regime. With the haze around, water is even more important to regulate toxins and wastes in our body. Our lungs are breathing in these pollutants and leaving our kidneys to do more work of flushing out toxins. Drinking water helps with your kidneys' work to excrete these toxins.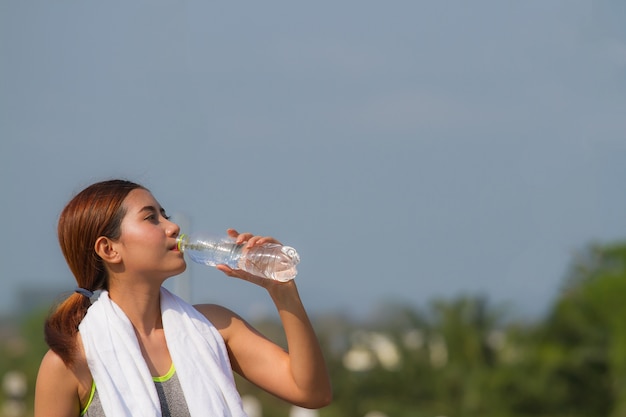 Boost your immune system
You can also get water from fruits and vegetables with high water content! They also have many vitamins and antioxidants that can help boost your immune system. By doing so, your body will have the necessary nutrients to fight against harmful chemical processes because of air pollution. So increase your intake of citrus fruits, apples, strawberries, leafy vegetables and nuts!
Besides that, you can also take some electrolytes during your workout. Some electrolytes have added vitamins, plant extract and key electrolytes to not only hydrate you but to maintain your immune system as well!
Protect your eyes
The haze intensifies the UV rays in the atmosphere so you may want to head out with a pair of sports sunglasses to protect your eyes. Sports sunglasses usually have polarized lenses and have a snug fit to your face so you don't have to worry about the bounce. It will also protect your eyes from dust particles that can lead to dry eyes and irritation.
Check out the options from the Goodr collection! They are not only fashionable but have are perfect for running because of its lightweight and grip coating!
Protect your skin
With harmful UV rays trapped in our atmosphere because of the haze, our skin may also feel irritated and dry. If you are heading out, apply some moisturizer or lotion on your body and while you are at it, slap on some sunblock to protect your skin!
Run on the treadmill
If the air quality is too bad, it is also always safer to train indoors. Hop on to a treadmill at your nearest gym. It is actually a good way to train pace control. To make it slightly more challenging, you can opt to run on an incline of about 1 – 1.5 to mimic what you will feel on the road. However, an incline that is too steep for too long may cause a strain to your back and ankles, so make sure to not overdo it!  
Happy training, runners! Stay safe!
---